Peter was born in Darlington in 1983 and went to Abbey and Hummersknott schools and Queen Elizabeth Sixth Form College. He has worked in Darlington, in London and Washington DC and lived in Mowden, in Faverdale and just off Hummersknott Avenue.
In 2015, Peter was chosen by local Conservatives to stand to be the MP for Darlington.
The Conservative vote share rose by five times as much in Darlington as it did nationally (3.7% compared to 0.8%). It was one of the best results in the country against a sitting Labour MP.
"Peter is experienced and hard working. He'd make an excellent MP and great neighbour. This is our chance in Darlington and a local candidate with knowledge of campaigning can make all the difference."

James Wharton, MP for Stockton South, Parliamentary Under-Secretary of State for International Development and former Minister for the Northern Powerhouse
In 2016, Peter ran to be the local Police Commissioner for Darlington and Durham, increasing the Conservative vote from 10% to 24% – the biggest increase in England.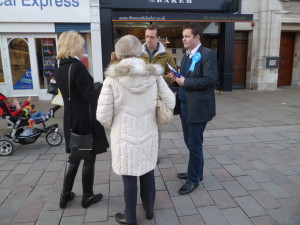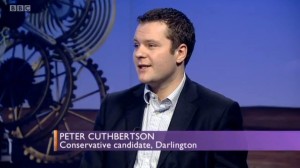 "A Darlington man born and bred, he walks briskly from door to door in a cold, pelting rainstorm, listening to local concerns about parking garages, talking David Cameron up and Labour's Ed Miliband down, and asking politely for support. Anywhere you go, retail politics are hard work, and it's been a long day. As I flag, wondering if it would be bad form to suggest that we continue the campaign in a local pub, Cuthbertson breaks into a jog and heads for the next doorbell."

Ted Bromund, reporting on the 2015 General Election for the American magazine National Review
Peter also played a leading role in the campaign against Labour's plans for council tax rises in 2015, after the local Labour Party increased council tax more than almost any other council in the country. In a few weeks, he gathered over a thousand petition signatures against the tax hike.
Peter now works as a public affairs consultant, mainly supporting small businesses, manufacturers and charities. He previously worked in Martin's newsagent in Mowden, in Darlington railway station and the Newton Aycliffe Royal Mail sorting office.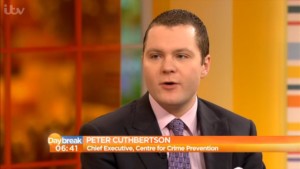 Peter has spoken on Sky News, the BBC and in a meeting held in Parliament on the need for more cancer research funding. His work on improving outcomes for hernia patients featured in The Times and his report on hip and knee replacements appeared in over 200 local and national newspapers.
In 2013 Peter set up a non-profit organisation, the Centre for Crime Prevention, to promote tougher
sentencing for serious offenders and the greater use of beat-based, zero tolerance policing. This work to cut crime has been quoted in Parliament and repeatedly influenced the debate in local and national newspapers.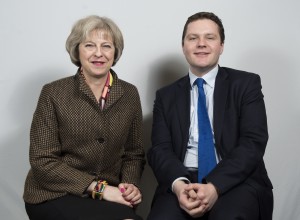 Since 2016, Peter has campaigned to save Darlington Library. He found a top lawyer and a legal aid applicant to challenge Labour's plans to close the library, worked with them on a legal challenge and put them in touch with other local campaigners. This legal challenge ultimately delayed the decision by at least a year. He has also spoken at public meetings, collected petition signatures and authored a short research report challenging plans to close Darlington Library.

Follow Peter Cuthbertson for Darlington on Facebook.